Guilt Free Ooey Gooey Chocolate Chip Cookies
Ill be the first to admit that I have a sweet tooth! It is my downfall whenever I'm trying to be healthy and sugar free.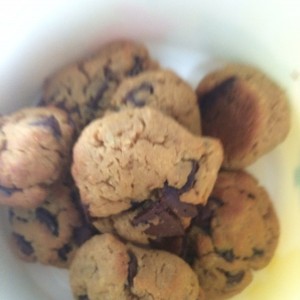 So….i was super excited when I stumbled a way to indulge my sweet tooth without the guilt factor. Enter the ooey gooey chickpea
chocolate chip cookie!! Sounds weird I know but once I tried it, I knew I'd found my perfect treat!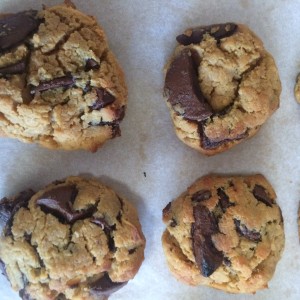 Without any added sugar, this cookie is high in protein which makes it an excellent power snack and is so easy to make.
And eaten warm it has that yummy ooey gooey factor that is simply delicious! Why not try making some today.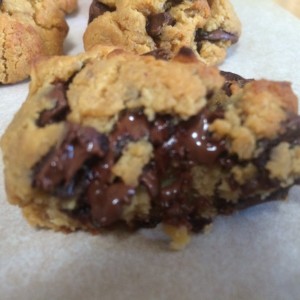 RECIPE:
1 can chickpeas rinsed, drained and pat dry
½ cup peanut butter (can substitute almond butter or regular butter but it is the nut that gives you the protein)
¼ cup skim milk or dairy free (works well with unsweetened almond milk)
1 tsp vanilla extract
1 tsp baking powder
85g chopped dark chocolate (use unsweetened for true sugar free and use less chocolate if you prefer ie 50g)
INSTRUCTIONS:
Preheat oven to 200 degrees (I used 180 as my oven is fan forced).
In food processor or blender blend the chickpeas, milk, peanut butter, vanilla and baking powder until smooth.
Fold in the chocolate chips
Roll tablespoons of mixture onto a lined baking tray and bake for 12-15mins until lightly brown
Enjoy!
Makes 16 cookies with an average of 5.2G protein and 103 calories per cookie. On the new WW system each cookie is about 3 points
This recipe was original taken from the blog post oatmealwithafork.com but there are now several variations I've found on the internet and I've adjusted it and come up with this version that works for us. You could experiment by adding raisins or other fruit instead of the chocolate chips if you prefer. These cookies never last long in our house and are the perfect treat for all to enjoy!