Fun2Move is all about showing families, mums and children that getting fit and healthy can be fun.
Qualified personal trainers and husband and wife team, Giuseppe and Ania, the creators of Fun2Move, are passionate about sharing good health and fitness with everyone. They created Fun2Move because they wanted to be healthy role models for their children and spend more time with family. Giuseppe and Ania believe personal training and fitness doesn't have to be something you do alone at 6am on chilly Melbourne mornings or in expensive gyms – the benefits and enjoyment can include everyone. From young children, families, schools and kinder groups and even fun kids parties, at a time of day and location that suits you.
And for women who are pre, during or after pregnancy, Giuseppe and Ania have created Fun2Move's Active Pregnancy training program, which is specifically designed to keep mums active and fit, while keeping baby safe and comfortable at all times.
Fun2Move is a growing business, with more trainers and sessions across a number of schools and kindergartens, in addition to our regular Fun2Move group fitness sessions.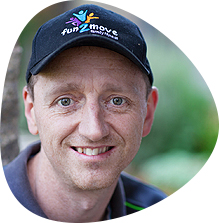 Giuseppe
I was working long hours in a corporate job when we discovered we were having a baby!  Suddenly the long hours were no longer appealing!  I wanted to be able to spend time with my wife and kids, not just be there to kiss them goodnight!  I've always enjoyed keeping fit and playing sport and wanted to bring this passion to my family.  Becoming a qualified personal trainer allowed me to combine my passion with work and thus our business was born!
Ania
As a busy mother of two, I love the idea of bringing fitness to families because I know how hard it is to fit exercise in to a busy family schedule.  As an Occupational Therapist I have worked with children, and people with injuries over a number of years and am passionate about helping people achieve their goals of good health.  I love running the children's sessions and helping our young members master new skills as well as coming up with new fun ideas to keep them moving!